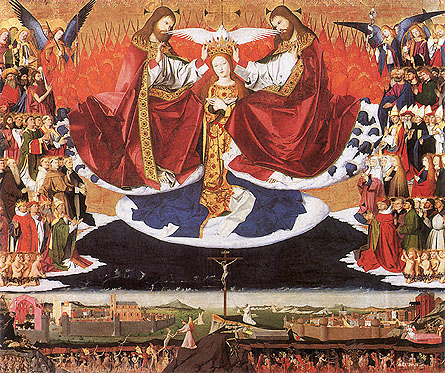 Salve, Regina, Mater misericordiæ,
vita, dulcedo, et spes nostra, salve.
ad te clamamus exsules filii Hevæ,
ad te suspiramus, gementes et flentes
in hac lacrimarum valle.
Eia, ergo, advocata nostra, illos tuos
misericordes oculos ad nos converte;
et Iesum, benedictum fructum ventris tui,
nobis post hoc exsilium ostende.
O clemens, O pia, O dulcis Virgo Maria.
Today is the feast of Mary, Queen of Heaven, and my first reaction was to skip this as a blog topic as monarchic themes mean nothing to me (their frequent use in theology being, to my mind, a historical aberration rather than something that tells us anything profound about God). Then I remembered the hymn
Salve Regina
, in its original above and in a contemporary English translation here:
Hail, holy Queen, Mother of mercy,
our life, our sweetness, and our hope.
To you we cry, the children of Eve;
to you we send up our sighs,
mourning and weeping in this land of exile.

Turn, then, most gracious advocate,
your eyes of mercy toward us;
lead us home at last
and show us the blessed fruit of your womb, Jesus:
O clement, O loving, O sweet Virgin Mary.
This hymn is one of the few that have emotional resonance for me both because it has been sung at important moments in my life and because it says some key things about Mary, who is the model for how to follow her son, Jesus. The hymn both sets the context of suffering and persecution that Mary was exposed to throughout her life (just think of her desolation at the foot of the cross), and that we too experience at different moments, and points to its resolution in her son. Why is it though that Mary should play this role of intercessor? Can't we just pray to Jesus? Sure! Invoking Mary's help in no way bypasses Jesus - in fact if you look at everything we know about her, it always points to God. Does this mean that she is in some way insubstantial? On the contrary! What I see when I look at Mary is a person fulfilled to the maximum since she perfectly followed God's plan for her. I believe God has a plan for each one of us (a plan that always starts in the now, regardless of what we have done before) and that fulfils us, gives us joy and makes us free.